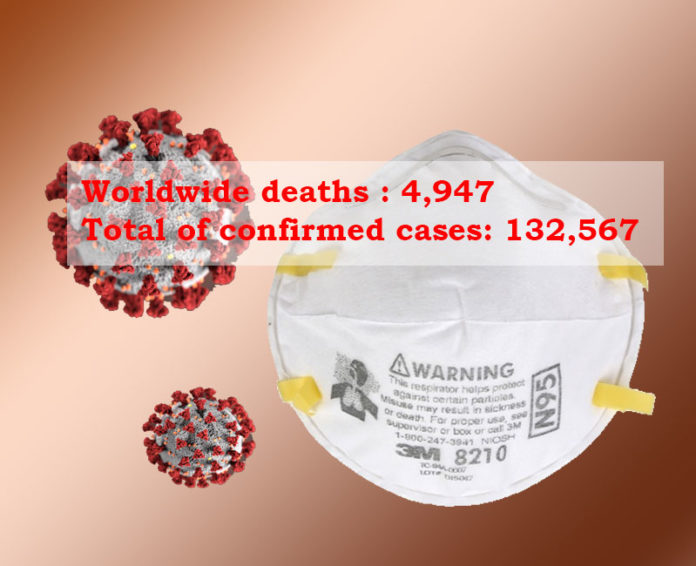 According to the report from World Health Organization early on Friday a total of 4,947 people died due to latest Coronavirus infection worldwide. Over 132,567 confirmed cases of the novel coronavirus have been reported worldwide. The World Health Organization has already declared the current outbreak of coronavirus infection as pandemic.
WHO urged government's around the world to take appropriate measures to stop the pandemic. The majority of patients are from China where the confirmed cases reported till date are 81,000 and most of the deaths are reported from China.
Till now more than 4,900 people have died with the latest outbreak of Coronavirus pandemic. In Italy 1,016 people died, in Iran 429 people died, in Spain 90 people died, in South Korea 66 people died, in France 61 people died, in USA 31 people died, Japan reported 16 deaths, India reported 1 death and from other countries also many deaths due to this infection is being reported.
Italy has confirmed more than 15,000 cases of Coronavirus infection while Iran reported more than 10,000 confirmed infections.
As of now there are no vaccines for this virus, nor there any treatment. So, it is also a big concern for the world. Scientists will take at least 1 year to come up with effective vaccines of this disease.
WHO suggested preventive measures for the people to keep themselves and other people safe by following certain guideline which includes cleaning of heads with soap frequently, applying hand sanitizers, keep away from the infected people (having cough cold symptoms) and take doctors help in case of emergency.