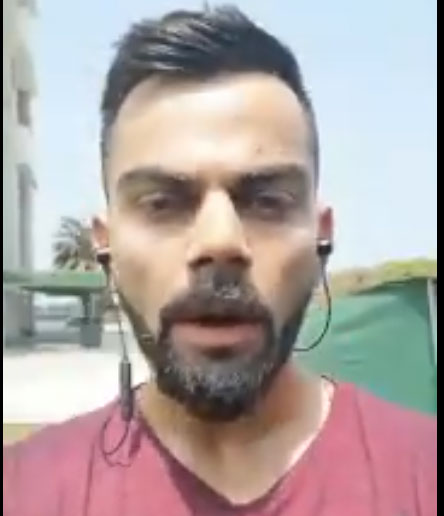 Indian cricket captain Virat Kohli has made history in the second one-dayer against the West Indies. New Indian cricketer Virat Kohli has become the fastest batsman to score 10,000 runs in ODI cricket. Kohli has broken Sachin Tendulkar's record in this matter. Kohli achieved this feat in the second one-day match against the West Indies, he needed 81 runs before the match. Kohli, who scored 10,000 runs in the 205th innings of 213 ODIs, became the first batsman to achieve this position in the shortest ODI innings. In this way Kohli has touched the peak while playing less than 54 innings.
Earlier this record was made by Tendulkar who achieved this feat in 259 innings. The list also includes Sourav Ganguly (263 innings), Ricky Ponting (266), Jacques Kallis (272), Mahendra Singh Dhoni (273) and Brian Lara (278). Prior to the series against the West Indies, Kohli needed only 221 runs to complete 10,000 runs in ODIs. He scored 140 runs in the first match played in Guwahati.
Earlier, the Record of completing the fastest 8000 runs (175 innings) and 9000 runs (194 innings) in ODIs is also being broken by Kohli. Kohli became the world's 13th player and overall fifth Indian batsman to complete 10000 runs in ODIs. The Indian Batsman who had achieved this feat before Kohli including Sachin Tendulkar (18,426 runs), Sourav Ganguly (11,363), Rahul Dravid (10,889) and Mahendra Singh Dhoni (10,123).
Kohli surpassed another record of Tendulkar during his innings. He has now become the highest run scorer between India and the West Indies. Tendulkar has scored 1573 runs against the West Indies and Kohli has now gone ahead of him.
Only ten batsmen have scored more than 4,000 runs in their home country so far in the world Cricket Era. Kohli also set a record of completing 4,000 ODI runs in the shortest innings of his country. He played only 78 innings for this. In this case he also broke the record of Tendulkar who achieved this feat in 92 innings. Dhoni's 99, Australia's Dean Jones 103, South Africa's Kallis, 109 and Ponting of Australia completed 4,000 runs in 110 innings.