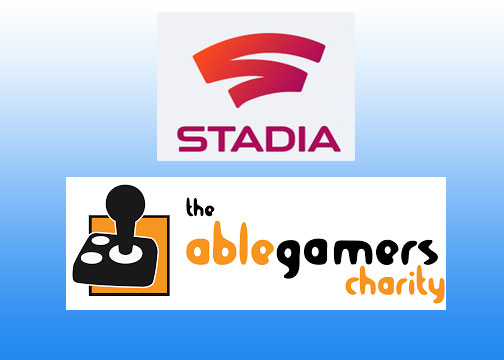 Google recently launched its game streaming service Google Stadia for Google Chrome and many other devices. Now Google is partnering with AbleGamers for promoting the accessibility of its Google Stadia gaming service. AbleGamers is a respected charity vying to make gaming more accessible. With this partnership Google looking towards further increases the reach of its Stadia gaming platform.
Google Stadia was announced eight months back and now finally this service is releases this week for variety of platforms.  Google Stadia is released for variety of platform including variety including TVs, phones, and laptop/desktop computers. Google Stadia is light weight platform to play game and users with the entry laptop/desktop can play game in their Chrome browser. Google makes it simple to play game without having high end computers.
With the release of Google Stadia, company is aiming to make gaming available for the people who may have not have played games before.
With the partnership with AbleGamers, Google is promoting the accessibility of games in Stadia platform.
There is no official information from Google about the involvement of AbleGamers in this partnership. Google might encourage Stadia game developers to include more accessibility features in their games.
Google started working with the AbleGamers to "ensure the inclusion of people with disabilities."
AbleGamers founder, Mark Barlet, twitted "further along than any new technology has ever been."
After huge success in Search, Chrome, and Android, Google launched Stadia gaming service. As per the industry experts this service is going to change the world of gaming in coming years.
Google hopes to bring world class gaming to billions of gamers and most importantly there is no requirement of high configuration desktop to play these games. Only entry level desktop or laptop will work with this service.
To play the Stadia games end user just need Google Chrome browser. Most of the user today uses Google chrome browser to browse the internet. If you don't have Google Chrome you can download and install on your computer easily.
With the partnership with AbleGamers, Google will further widen the reach of its Stadia gaming platform.