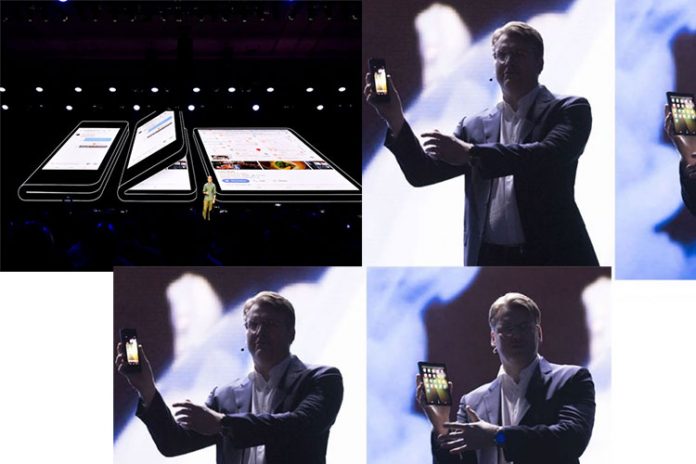 Samsung the Smart Phone giant announced its foldable phone today with inner 7.3 inch display and 4.6 inch outer display. With this announcement company becomes the first company to come up with the foldable phone.
Company announced this phone at San Francisco in its fifth annual developers' conference; during the conference Samsung's Senior Vice President of Mobile Product Marketing Justin Denison unveiled company's most exciting foldable smartphone.
Company has said that the production of this phone will start in few months. Although the phone displayed today is not the final product and still there will be modification before final release. Phone will incorporate more changes before its final release.
Company used the term "Infinity Flex Display" for the display used in this phone. Phone is designed is such a way that there will be no degradation of design because of folding and unfolding of the phone.
Company showcased this phone in Samsung Developer Conference; company is working with developers to create value for the customers (by developing next generation applications for this phone).
Company said that this phone is going to create a foundation for new kind of mobile experience among the phone users.
Most importantly this phone can be used as tablet when fully opened. When half opened phone can be used as regular phone. With the announcement of this phone company fills the gap between a tablet and smartphone. Now user will be able to use same phone as tablet and phone. This phone can be good choice for gamers and it can be used both tablet & phone.
Samsung foldable phone specification:
When folded:
Screen size: 4.5 inches
Screen resolution 840×1960 pixels
When unfolded:
Screen size: 7.3 inches
Screen resolution 1536×2152 pixels
There no information about the price and other details of this phone. In coming days more details will be reviled on Internet.
With this announcement Samsung becomes first company to design and develop foldable smarphone.