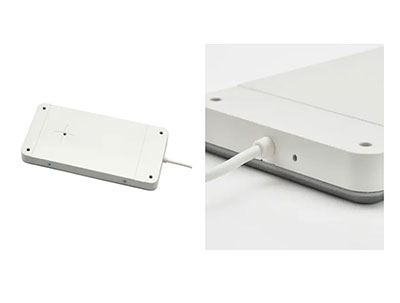 Ikea for a long time has been making and selling furniture with wireless charging coils, but now the company has come up with a solution to make any desk or shelving unit powered up.
In the next month, Ikea will launch a wireless charging pad, which brings seamless wireless Qi charging integrated into furniture, without having to redecorate. "SJÖMÄRKE", the name that was given to Ikea's new solution to wireless charging, costs $39.99. The product is up for grabs on the company's US e-commerce website, however has not yet been listed in its Indian counterpart.
The device is unlike other wireless Qi charging pads available in the market, where one puts the device directly on the pad. Ikea's new seven-inch by three-inch aluminium and plastic charger pad works through plastic or wood. Which allows you to attach the pad on the underside of a table/shelve with double-sided cellotape or screws.
According to Ikea's handbook for the product, it is safe as long as the device is attached to wood or plastic material. It also recommends an 8 mm distance between the phone and the charging pad. A three-eighths and seven-eighths thick surface are ideal for the device, says the company.
According to the manual released by Ikea for the product, it is  "Perfect to mount on a desk, side table or bedside table when you want chargers and cables to blend into the decor to keep the room neat and tidy."
Along with the charging pad, you get a six-foot power cable, which connects to the pad, and sticky tapes to attach the pad to a surface.
The device wirelessly charges Qi-compatible devices and is compatible with Qi 1.2.4BPP specifications. The device comes with a temperature and power monitor for safety, along with LED indicators, which shows charging status.
The product is supposed to launch across stores in the US in October, however, no confirmation on its arrival in India has been made.