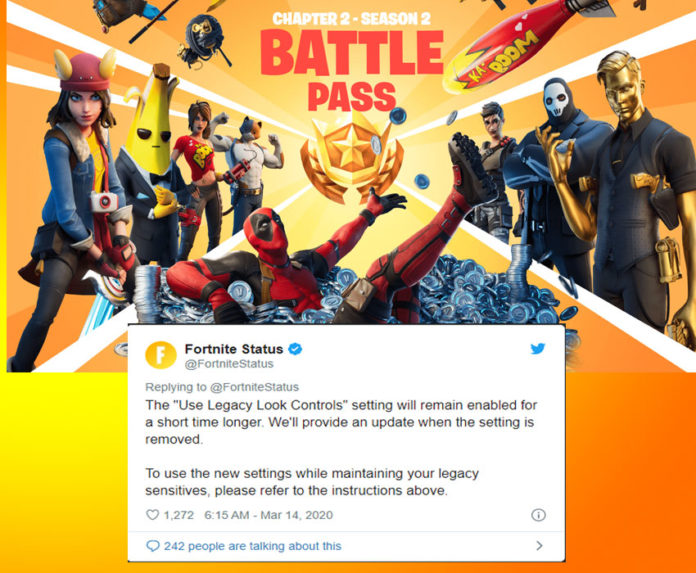 The 'Legacy Look Controls' is not going way as of now, gaming company Fortnite announced to delay its previous plan of removal of Aim Assist system for the controller payers. The company did not provide any reason for the delay in the removal of Legacy Aim Assist.
So, it is confirmed that company is not going to remove the "Use Legacy Look Controls" as of now from the controller system.
One week back the Epic Games announced to remove it for good, which created mixed feelings among the lovers of this game. Now company finally announced that this feature won't be removed as of now and the previous plan is delayed. So, this is the good news for the lovers of this feature in the game.
The sudden announcement of removal of this feature created a lot of mix response and for the lover of this feature it was like a bombshell dropped on them. It is also important the Duos FNCS was just around the corner. On the other hand the users of mouse and keyboard liked the removal of this feature as it was going to end the infamous L2 spam. The L2 Spam feature is used to beam and considered to be a spam.
The @FortniteStatus Twitter account just announced that this feature "will remain enabled for a short time longer". The company will provide further update once it is removed from the system, but as of now the removal is delayed for unspecified time.
The Epic Games' battle royale Fortnite had planned one week back for removing its "Legacy Look Controls," an aim-assist system. This system is meant for helping the players using controllers for the cross-platform title versus players using a mouse and keyboard system. This decision was made last week on March 13. There upcoming game challenge in next 7 days and countdown already begun. So, at this moment company decided not to remove this feature as of now and delayed the removal of the feature.
The Epic Games' battle royale Fortnite announced the delay it by posting a message on the official Twitter account. A message on the Twitter was posted saying Legacy Look Controls will remain enabled "for a short time longer."
The post did not say anything on the reasons of delaying the removal of this feature from the gaming system.
It is confirmed that company will remove this feature soon or later. But still there is no timeline given by company on this.