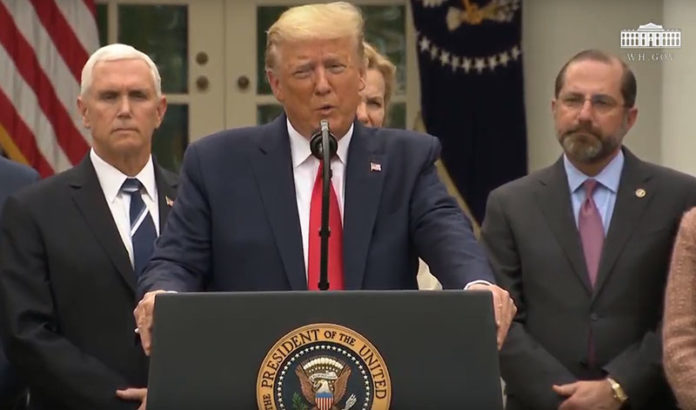 US President Trump declares national emergency over the spread of Coronavirus in the country. President Trump holds a press conference today and declared national emergency as over 1,268 confirmed cases have been reported from USA. In USA 61 people died due to current outbreak of Coronavirus. Two days back WHO declared the current outbreak of Coronavirus as world pandemic.
After this announcement Dow goes down nearly 2,000 points, this news will have negative effect on the world economy.
Due to spread of deadly Coronavirus many schools, colleges, and many offices are closed. The closure of schools and colleges has affected millions of students around the world. Many events were cancelled or postponed globally due to Coronavirus pandemic outbreak in the world. The Group of Seven leaders planned to fight with the current Coronavirus outbreak.
Worldwide more than 5,000 deaths have been reported and over 1,37,445 confirmed cases have been reported so far. The number of confirmed cases is increasing fast worldwide. Still there is no vaccine of this disease and it will take over a year to develop the vaccine against this virus. The unavailability of any vaccine is grave concern for the world.
In the United States, Trump administrations have announced a series of steps to ensure availability of tests for the people. The Government would partner with the private sector to setup more Coronavirus testing labs across the country.
As per the warning from the World Health Organization, the Europe is now facing Coronavirus outbreak and "has now become the epicenter" of the pandemic.
Miami Mayor Francis Suarez also tested positive for Coronavirus, earlier he attended an event in Florida with a top Brazilian government aide.  The Brazilian government aide also found tested positive for Coronavirus.
Earlier a senior Australian official also tested positive, the spread of Coronavirus is creating huge concern for the country.
According to the current findings of scientist, the coronavirus can stay infectious for days on some surfaces.
Worldwide many people are getting infection through in-person contact, when they come in contact of person infected with Coronavirus.
As of now only prevention can help the society, as it will take over an year for the availability of vaccine.