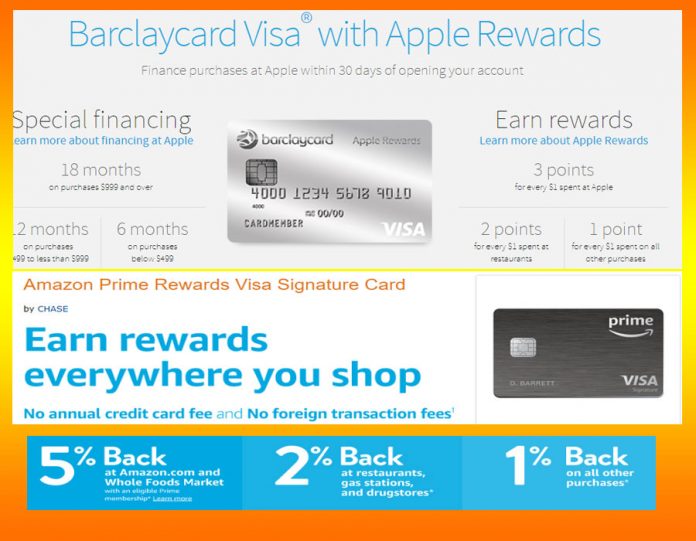 Apple entered into the credit card industry this year by announcing Apple Card during Apple's Show Time event on March 25, 2019, at the Steve Jobs Theater in Cupertino, California. This card is being praised for disrupting the credit card industry. Apple is offering cash back on every purchase through its credit card. But whatever Apple card is offering is already being offered by Amazon Rewards Visa cards. The ViralTrends breaks the two down and presented analyzed information here.
Amazon Prime Rewards Visa cards are very popular and it is offering most of the benefits which is announced by Apple Card. Amazon also give metal card to their users. Let's break down which credit card offers the most cash back and best perks?
Apple entered into the personal credit card industry by announcing its Apple Card which is much more tightly integrated with its Apple software. Apple Credit card pays money to the users of card every time it is used. You can get the approval of your card instantly and they will also send you physical shiny metal card at your address in few days. So, you get virtual as well as physical card with from Apple. This seems good for you and due to these reasons may people like Apple card. If we compare it with the Amazon Card offering we will find that all these benefits are already been offered by Amazon.
The benefit of these two cards seems to be same but there are subtle though significant differences. The Amazon's credit seems to be serious contender of Apple new Credit card.
Amazon is offerings Amazon Prime Rewards Visa Signature Card which offers benefits with your every purchase and it is mandatory to be a member of Amazon Prime. The other card of Amazon does not offer such benefits but you can purchase without being a member of Amazon Prime.
The first difference between the Apple and Amazon card is that Amazon requires you to be member of Amazon Prime. The membership fee for Amazon Prime is $119 per year or $12.99 per month, so how one can say that Amazon Prime Rewards card is free?
Amazon is using the Chase Bank as card provider and if you don't have Amazon prime membership then bank will charge you for credit card. So, it the Amazon Prime Rewards cards come only with a yearly cost.
If you are buying a lot from Amazon like products, videos, streaming services then the Prime membership could be a bargain.
If you qualify for this card Amazon immediately give you a $70 credit. So, this is just the signup bonus, but from next year onwards you will have to pay full $119 yearly. So, there is a yearly cost of $119 per year.
If we compare it with the Apple Card, we will find that Apple is charging for signup and does not give any signup bonus. There is a yearly cost associated with the Apple Credit card.
According to Apple this card is useless unless you have iPhone, so in another way Apple is forcing users to have at least one iPhone to use this credit card.
So, in this way the cost of Apple card is much more than Amazon's Prime reward card.
Both these companies are offering cash back with every purchase. Apple is offering a cash back ranging from 1% to 3% depending on the time/product purchased.
You are most likely to get 2% cash back when you are purchasing with Apple Pay. But if you buy with the Apple then you may get over 3% cash back return.
Same thing is here with Amazon Prime card, you will get 1% when you buy anything anywhere. But if you buy it from Amazon you will get 2% cash back.
Amazon is giving upto 5% cash back on the Whole Foods Market (not including international stores), so this seems good for food purchase.
Many Americans are staying outside the country so, another details they might check is the transactions fee applicable on these cards for international transactions.